Industrial Sewing Machine
What are industrial sewing machines?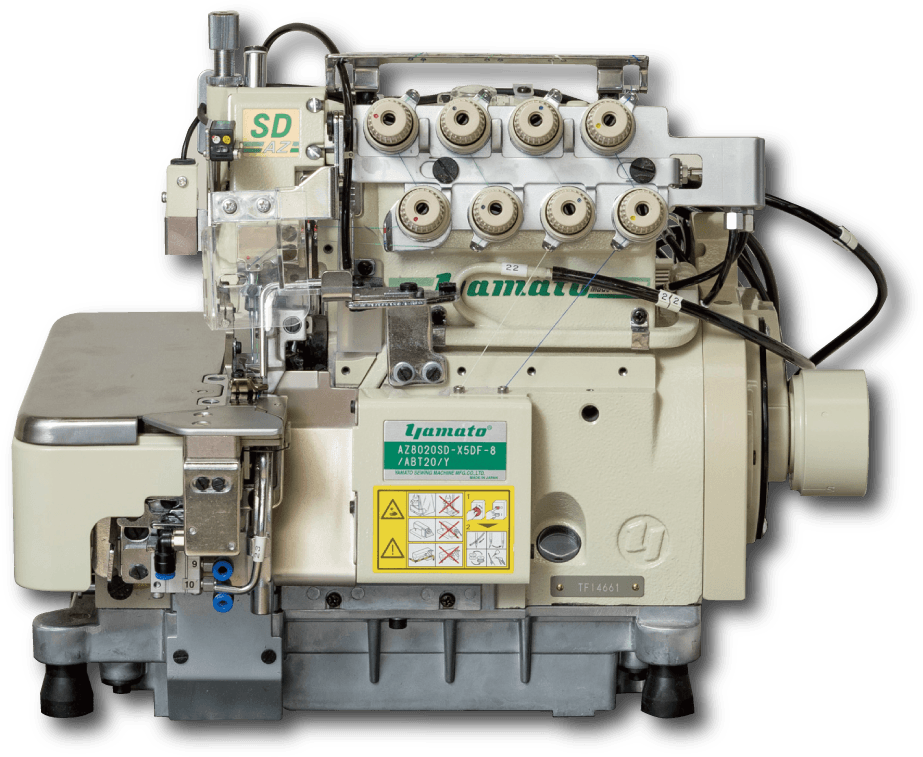 Unlike household sewing machines, which must be more familiar to you, industrial sewing machines have been designed and manufactured with very high preciseness and care, for continuous run with high performance and durability in serial production of sewn goods, such as garments, home textile products, industrial textile products etc.

Therefore, there are a lot of different types of machines to suit many different sewn items and sewing processes. Even though they do not look very much familiar to you, industrial sewing machines are the must equipment for your daily life and contribute to society.
Advantages of industrial sewing machines
Industrial sewing machines are designed to be run at higher speed so that higher productivity can be realized, especially for mass-production. High quality industrial sewing machines are equipped with state-of-the-art technologies for stable production of better quality garments. Further enhancement of quality and productivity can be achieved when attaching various deskilling and labor saving devices which automates and standardizes manual operations.
Precise machining, manufacturing & quality management system

High quality industrial sewing machines employ precisely processed parts, manufacturing process with professional care and state-of-the-art quality management system. Some industrial overlock machines can run at more than 8,000 stitches per minutes speed. In order to make up neat seaming at such high speed, it is very important that each part must surely catch sewing threads. In order to realize that, key parts of those machines are designed to pass each other in every 7/1000 second with almost zero clearance. Quality of those key parts are defined and managed in micro meter level. High precise parts, professional manufacturing and quality management system enables high speed running for better productivity.
Realize better quality and productivity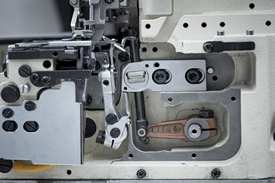 High quality industrial sewing machines are equipped with various technologies for better quality apparel. For example, Yamato's SPEED & DRY technology. Preventing oil stains from sewing machines is very important to maintain quality of apparel products. However, several sliding parts like needle bars and looper mechanisms must be exposed because of interections with fabrics.
State-of-the-art coating technology, signature sealing technology and lubricating section design enabled Yamato to realize the world's first sewing machine running at an ultra high speed with the micro lubirication technology. The micro-lubrication technology confines lubrication oils inside the machine so that high quality apparel products free from the leaked oil can be achieved.
Ideal stitch performance
Required stitch characteristics differs in response to apparel products. For example, compression wears with extreme elasticity requires extremely stretchable seaming. Yamato's signature Active Thread Control technology (a.k.a. -8 technology) actively controls volumes and timing of threads' supply to make desired seam characteristics. It can perform epoch-making soft and elastic seams suitable for garments with lightweight, soft and stretchable microfibers.
Active Thread Control makes ideal seams over a wide range. It supports wide variety seams from soft and elastic seems to tight seams. Yamato Active Thread Control makes an ideal thread balance control to form any desired seam, with less stress given to each thread.
Deskilling & labor saving devices for better quality and productivity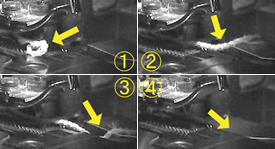 Industrial sewing machines can be equipped with various deskilling and labor saving devices for quality and productivity improvement. For example, back-tacking process made on high quality T-shirts. Yamato's automatic back-tacker senses fabric edges, operates 10 actuators in a half second to control threads on the air and buries them inside the seam, making T-shirts more comfortable. Back-tacking may help reduce bar-tacking process to improve productivity.
Types of industrial sewing machines
Industrial sewing machines can be grouped into 2 general categories; lock stitch sewing machines and chain stitch sewing machines. Lock stitch machines construct stitches using a needle thread and a bobbin thread against one needle and are applied mainly to woven materials. Chain stitch machines use needles and loopers to produce elastic stitches and are widely applied to knitted materials.
Overlock & Safety stitch machines
Overlock machines are sewing machines which sews over fabrics' edges, cutting and wrapping fabric's edges by needle threads, upper looper threads and lower looper threads. Overlock machines are used for serging and constructing knitted apparel products.
Safety stitch machines produces combined stitch of double chain stitch and overlock stitch which has wider over-edge width and higher durability.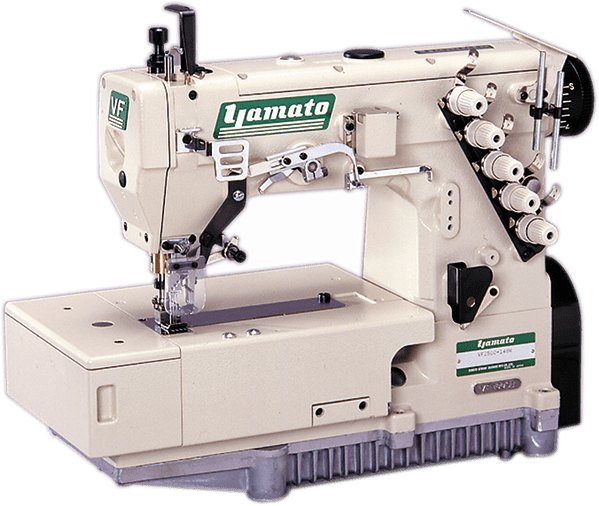 Interlock machines (a.k.a. flatlock machines) produce interlock stitches. Interlock stitches vary widely by number of needles, with/without top cover stitches, needle distance and so on. Interlock stitches are flat, highly elastic, durable and reliable. Interlock stitches are widely used for hemming and covering of knitted apparels, attaching folded / elastic tapes and decorative stitches.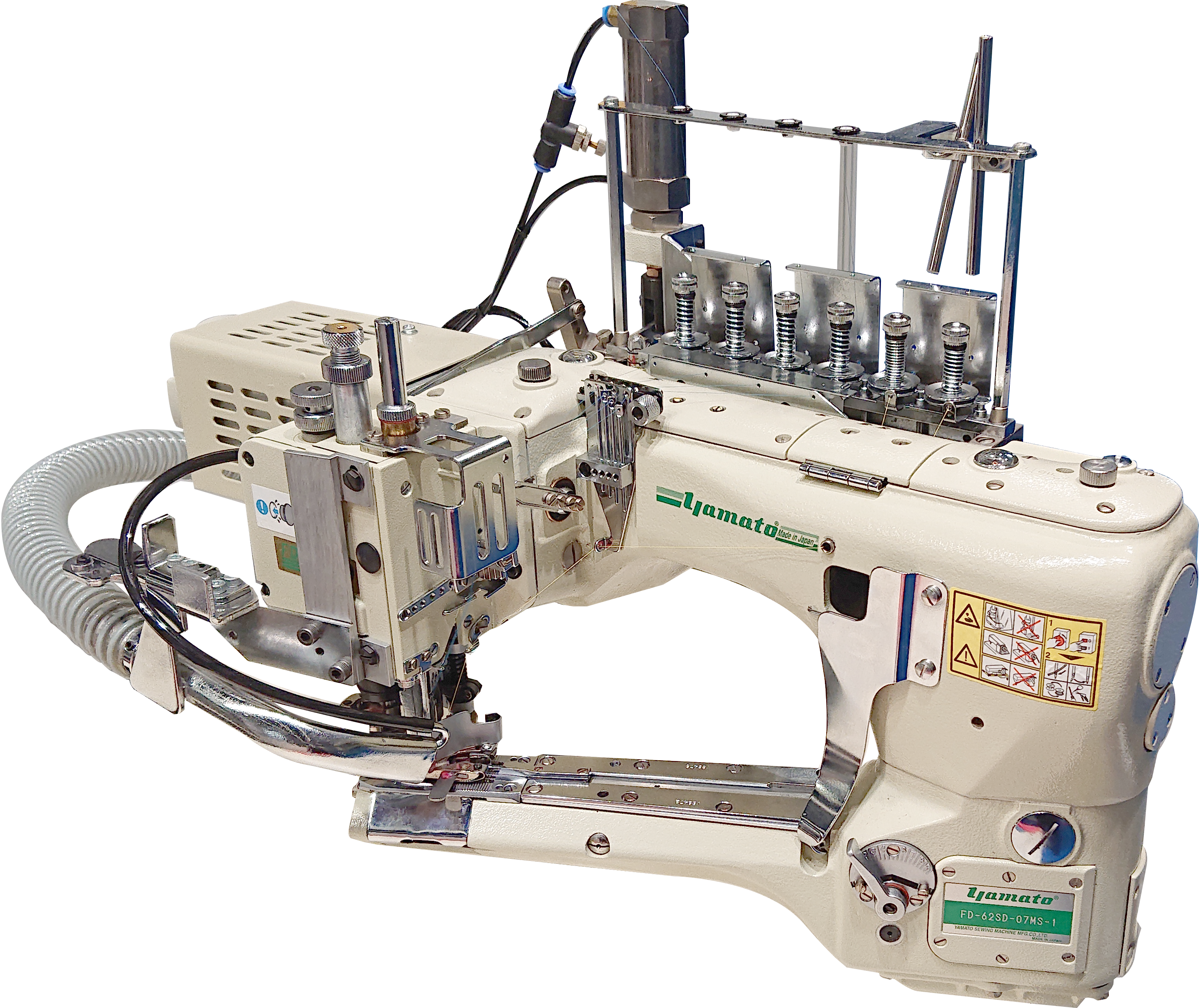 Flatseamers are 4 needles, 6 threads interlock sewing machines with fabric cutter and produces extremely flat seaming. Flat seaming makes knitted apparels comfortable to wear. Flat seaming is originally employed for underwear and recently, has become more popular for sportswear.
Double chain stitch machines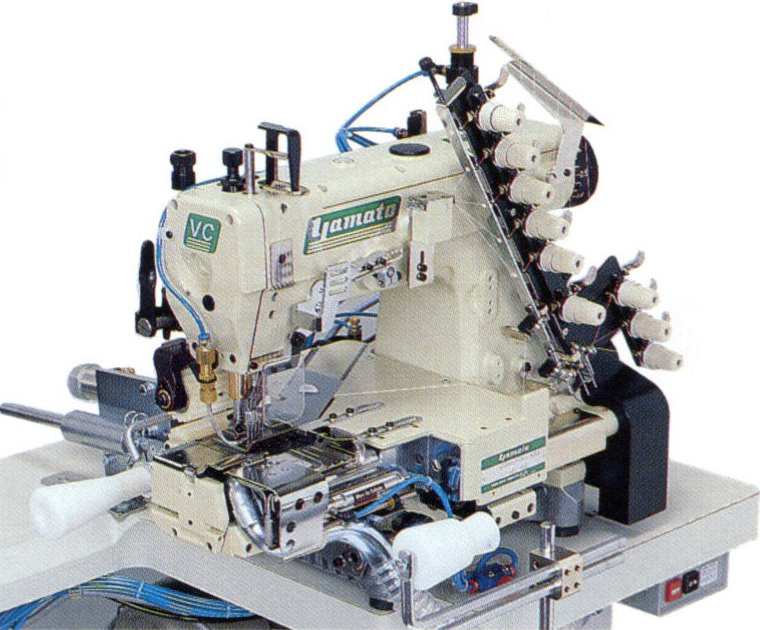 Double chain stitch machines are sewing machines which produces widely stretchable double chain stitches. Double chain stitches look like lock stitch on the surface and like a chain on the back. Double chain stitches are widely applied for knitted apparel products.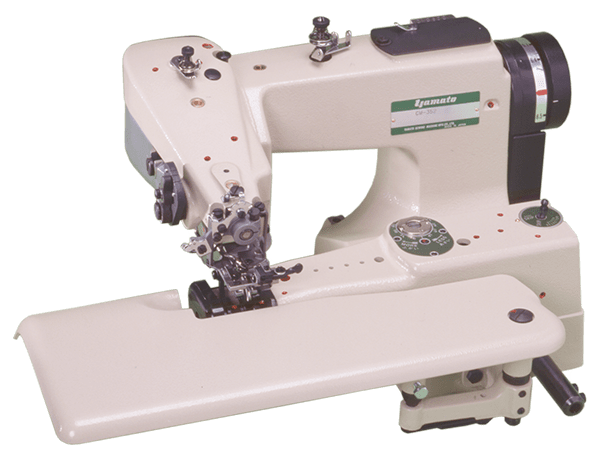 Blind stitch machines are sewing machines producing stitches invisible or nearly invisible, widely used for hemming up skirts and trousers.
Normally, blind stitches can easily unravel because those are single chain stitch, but Yamato's blind stitch machines can make stitch fastening while trimming threads in order to reduce process and time for better productivity.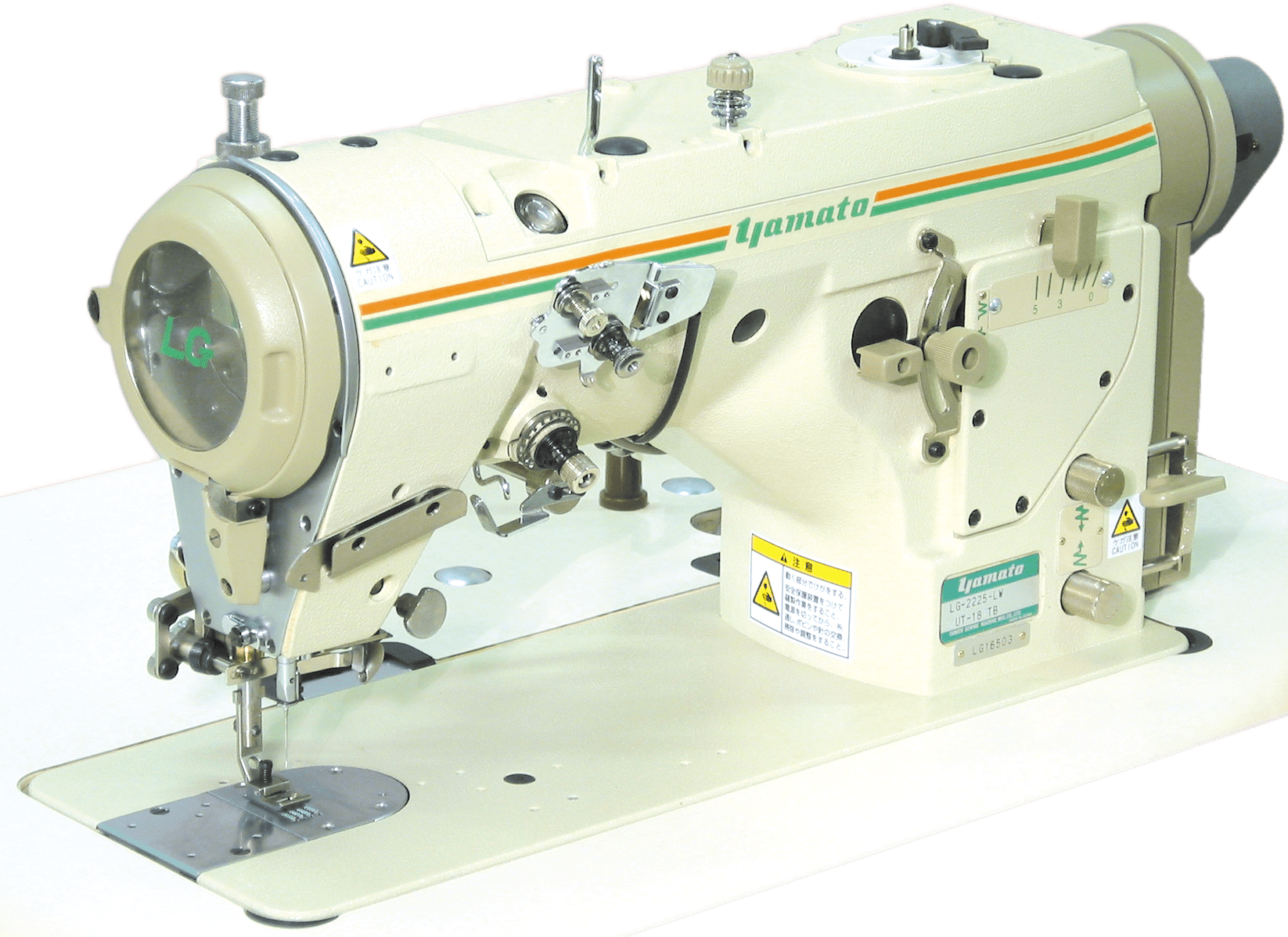 Zigzag sewing machines produce zig zag stitches mainly used for ladies intimates. Zig zag stitch are hardly unraveling and reliably join fabrics.
Yamato's industrial sewing machines & other equipment