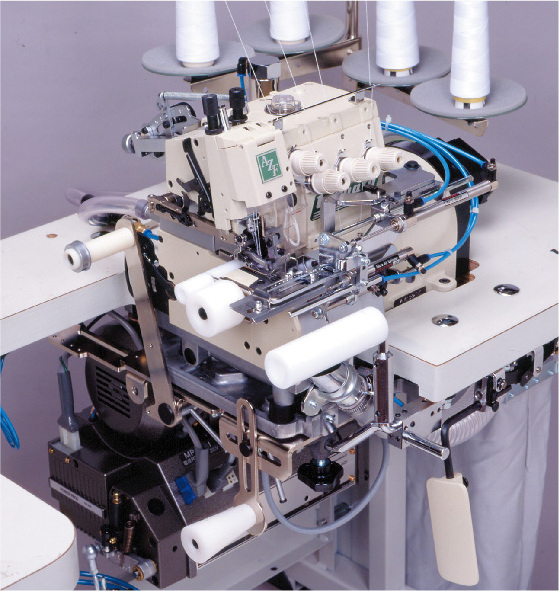 High productivity, uniform and beautiful finish. Complete Cylinder Bed Overlock Machine with Variable Top Feeder for sewing circular material.
The well-reputed AZF8400 type complete cylinder bed overlock machine with variable top feeder. There is no obstruction at all under and rear of cylinder be so sewing tubular garment is smooth.
Combined with RS25 device, it promises stable quality in the production of cuffs, neck & waist of T-shirts or sweat shirts - especially suitable for attaching collar.
Variable Top Feeder for Quality Enhancement without Plyshifts. The main advantage is that the top feeder is designed to draw complete ellipse just as bottom feeder does.  It eliminates damages on light or delicate fabrics, without plyshifts even on all fabrics hard to feed. Also, curved sewing operations can be easily done.
COMPLETE SMALL CYLINDER BED & VARIABLE TOP FEEDER
Complete Small Cylinder Bed Overlock Machine with Variable Top Feeder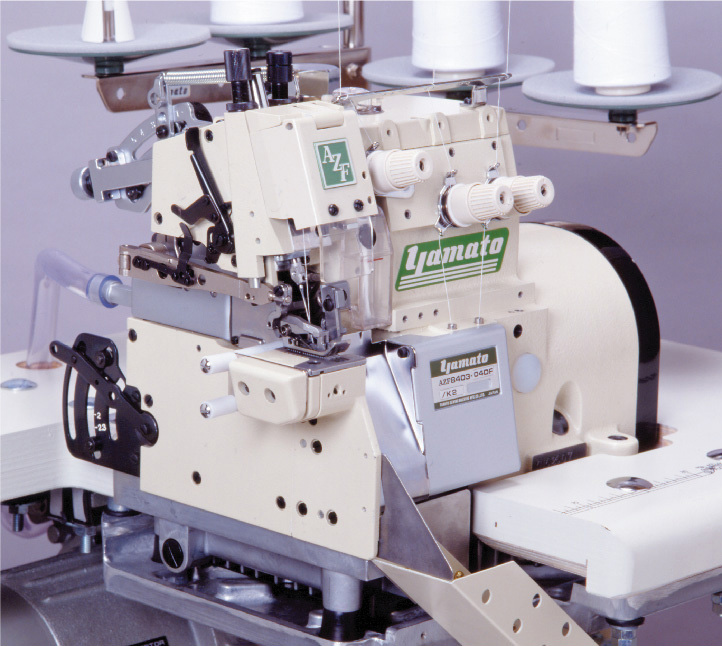 Yamato AZF8400 has complete small cylinder bed (circumference: 151.5 mm). Stitch length can be changed by push-button and differential feed amount by lever.
Moreover, movement of top feeder is correctly adjustable by micro-adjuster.
The main advantage is that the top feeder is designed to draw complete ellipse just as bottom feeder does - with our unique direct drive mechanism. So no scratch by feed dog will be found on any thin and delicate material.
Full speed operation for any process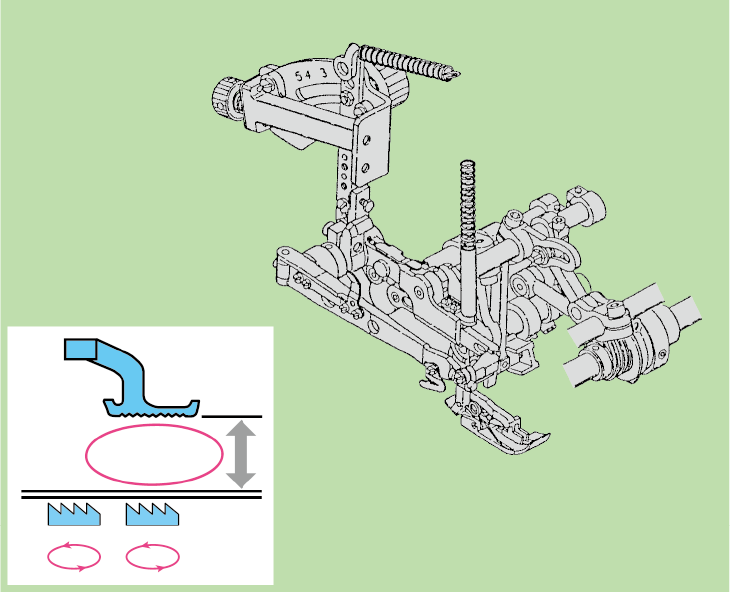 No need to reduce sewing speed even in top gathering or sewing heavy weight material.
DESKILLS COLLAR ATTACHING PROCESS FOR UNIFORM FINISH
Yamato RS25 will satisfy you with uniform finish of collar.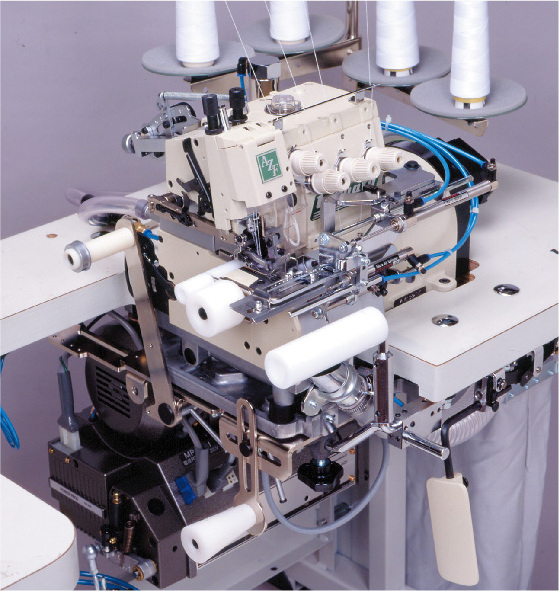 Yamato RS25 Device will be a great help for operators in charge of attaching collars to T-shirts or sweat shirts, combined with AZF8403/K2 or AZF8420/K2.
RS25 allows you to :
Eliminate burst of seam as fabric holder guides fabric firmly.
Attach collers (or waistbands) in uniform width thanks to the holder which folds them correctly in half.
Finish band flatly, which enhances the appearance and the quality of garments.
Besides, AZF8403 or AZF8420 can attach small tubular bands to cuffs or ankles on the cylinder bed by swinging out the device.
An example of production data (allowance rate:20%)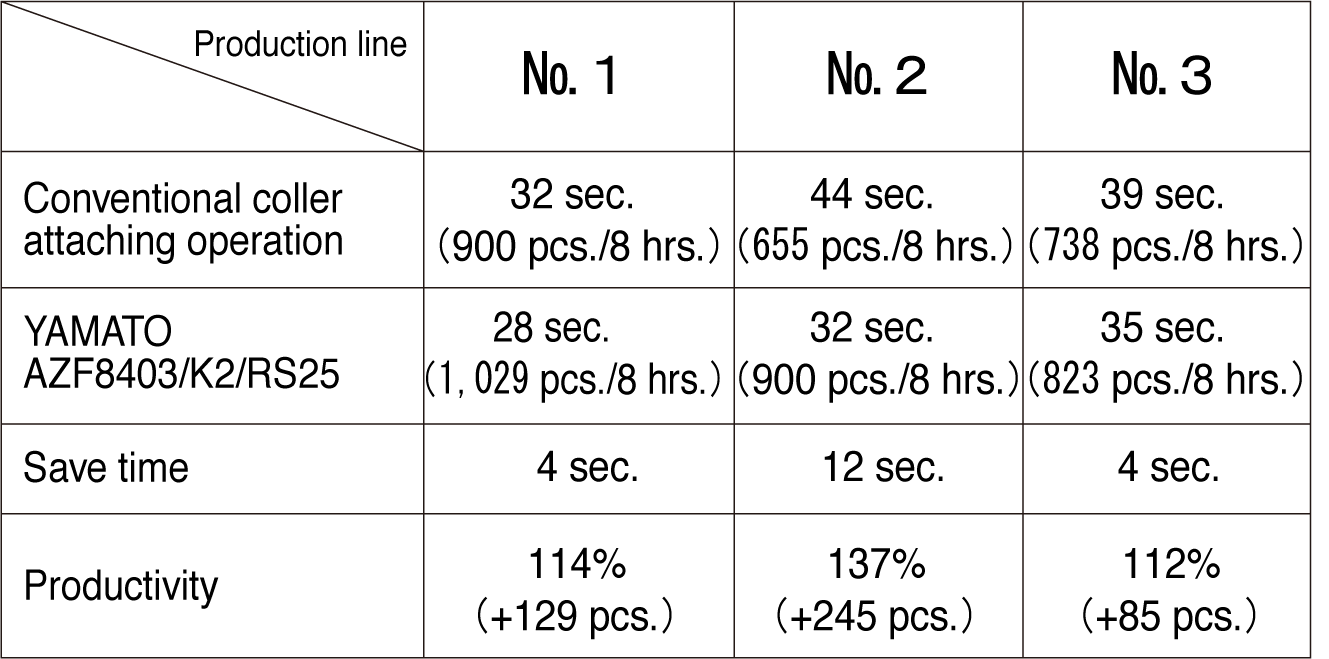 Components

RS25 is consists of a simple mechanism without electronics to open and close holder (patent pending).
RS25 includes air-operated holder (A) & (B), air-operated presser foot lifter (C), air-kit (D) for thread
chain trimmer <K2>, and dust collector (E).
Quick Change of Stitch Length by Push-Button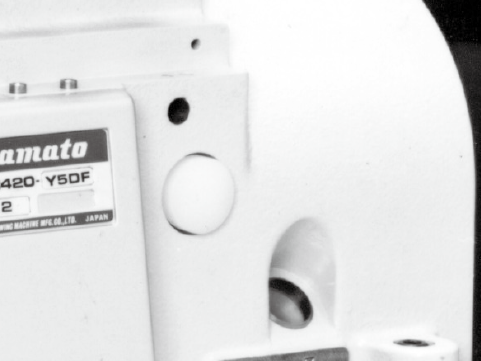 To make changing of stitch length, it is only necessary to rotate handwheel while pressing Push-Button. Desired stitch length is obtainable quickly and easily.
Quick Change of Differential Feeding Ratio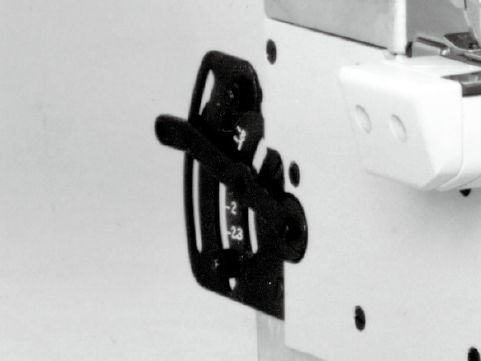 Only by adjusting lever, desired differential ratio can be performed to match various material to be sewn.
Adjusting lever is located on the back side of the machine and the position of the lever ensures to prevent the material from catching it.
Sewing Speed up to 8,000 s.p.m.
The machine has not only unique designed cylinder bed but also super high speed sewing capability for higher producutivity. Its maximum sewing speed is 8,000 s.p.m.*
(*Depending on the material and sub-model)
Cloth Plate is also available as option
The machine can be fitted with optional cloth plate for general sewing operation as desired.