CZ6600-31
Safety Stitch Machine for Heavyweight Fabric
Powerful Feeding Performance and Neat Stitch Formation Ensures Stress-free Operation!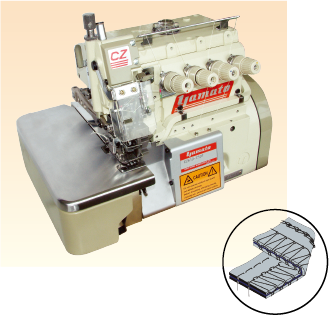 Powerful!
Its powerful feeding performance reduces operators' fatigue in sewing.
Neat Stitch Formation!
The machine can make neatly tightened, but durable stitches.
Long Life!
Yamato's unique "Non-Stain" technology ensures sufficient lubrication for smooth machine run, without worrying about oil stain.
Specifications
CZ6600-31
Safety Stitch Machine for Heavyweight Fabric
Needle System

DCx27

Number of Needles

2

Number of Threads

5

Stitch length (mm)

2.0 - 5.0

Feed regulation

Push button

Differential ratio

1:0.6 - 1:3

Differential feed regulation

Lever with micro-adjuster

Pressor foot lift (mm)

5.0

Needle stroke (mm)

27.1

Machine speed (sti/min)

6,000

Applications

For Safety stitch of denim for medium weight materials

Remarks

Safety Stitch